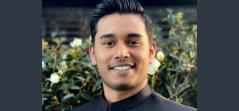 Shiddharth (Sid) Chand
Sihiddharth Chand is a New Zealand born Fijian-Indian tenor, a Studio Artist with the New Zealand Opera Company. A graduate of the University of Auckland, he has completed a Master of Music in Classical Performance with First Class honours. He was recently offered and accepted a place on the Professional Studies Certificate in Voice course at the prestigious San Francisco Conservatory under the instruction of renowned voice teacher Cesar Ulloa.
Previously he was a founding member and former assistant musical director of the University of Auckland Student Choir. A finalist in the Lockwood New Zealand Aria Competition (2022) he was awarded the John Bond Award for Most Promising Voice (18 years and over). He was also a semi-finalist in the Lexus SongQuest (2022), and finalist in the North Shore Singing Competition Becroft Aria (2021, 2022). More recently he was a finalist in the inaugural Nicholas Tarling Aria Competition (2023) and received the Most Promising award.