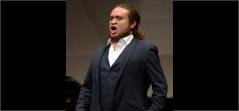 Morgan-Andrew King
Morgan-Andrew King is a Maori bass. He pursued studies in classical singing under the tutelage of Wade Kernot at the New Zealand School of Music and studied biomedical science at Victoria University of Wellington, New Zealand. He holds a Bachelor of Music, majoring in classical singing. He was the leader of the New Zealand Secondary Students Choir 2017-2018, which toured to Hong Kong and Shanghai in 2018. He won first place at the Napier Coldicutt Aria Competition 2021; and second place at the Wellington Vocal Competition – Aria Finale 2021 and the Te Awamutu Aria Finals 2021. He has been a winner of the Deane Endowment Trust scholarship, Fehl Charitable Trust scholarship, Waikanae Music Society scholarship, Dame Malvina Major Foundation Scholarship and Circle100 travel award. In the 2022 season, Morgan attended the Mediterranean Opera Studio and Festival in Sicily, Italy where he performed the roles of Sparafucile (Rigoletto), Coline (La Bohème) and Simone (Gianni Schicchi). He returned to New Zealand and covered the role of Banco in New Zealand's Opera production of Macbeth.
He attended the Lisa Gasteen National Opera Programme in Brisbane Australia where he performed Der Graf in Die Opernprobe. In January 2023, Morgan performed Sarastro in Die Zauberflöte for Williams College, MA and later covered the role of Raimondo in Wellington Opera's production of Lucia di Lammermoor. Later in 2023 Morgan will attend the Mostly Modern Festival in Saratoga Springs, NY; and will return to the Mediterranean Opera Studio and Festival in Sicily to perform the roles of Raimondo (Lucia di Lammermoor), Don Magnifico and Alidoro (La Cenerentola) and Marchesi and Dottore (La Traviata).
Later in 2023 Morgan will begin his postgraduate studies at the Curtis Institute of Music in Philadelphia under the tutelage of Jack LiVigni.